Dear The World,
It's October in Austin and the air is under 98 degrees U.S. American Fahrenheit. This is fall, and it's wonderful (wonder-fall). This season might be the shortest and most out of place season in Texas, as we don't really conform to the weather norms of the rest of the continental states, but that just makes fall all the more special to us. Most of us can now stand outside in five minute intervals without breaking a sweat and  everyone is eager for zombie costumes, horror movies, and early voting. There's just something exciting about this beautiful, albeit fleeting, time of year that begs for a beautiful, albeit fleeting, beer.
That beer has to be Saint Arnold's Pumpkinator. Much like fall in Austin, Pumpkinator is here and gone before you know it, leaving behind only the faintest memory of an autumn that probably only ever existed in your drunken brain. If you're lucky enough to get your hands on Pumpkinator, then you'll be sure to find coziness in its warm, spicy, velvety embrace. However, if the opportunity to partake of this treat slips through your fingers like so many Werther's Originals, then you will be subject to the worst trick this brief holiday has to offer: SMASHED PUMPKIN BEER DREAMS! You should have known that the dream of precious Pumpkinator was a dangerous dream to have in the first place, what with its demand exceeding its supply every year. Let's be real, though, a fall without Pumpkinator is like a teen mom without a baby daddy. You more or less predicted the absence, but despite all odds, you held out hope 'til the end that it would work out. #SorryMichelleDugger #MaybeNextYear
Regardless of whether you've had the privilege of drinking this beer or not, you should know that Saint Arnold's Pumpkinator is an imperial pumpkin stout and it is among the most coveted possessions of the Halloween season, rivaled only by the Black Flame Candle or that witch book made of skin. Much like Halloween itself, Pumpkinator is black, mysterious, and brewed with Cascade and Liberty hops. Pumpkinator's comforting aromas and rich, full-bodied mouthfeel sets it apart from all other pumpkin ales, and it should be heralded for the unique brew that it is. Because of this, I would like to parrot with the following items that are also festively rare. When coupled with Pumpkinator, these entertaining tidbits make Halloween the most special holiday of all.
This gourd-geous dancing man:
Tim Curry. Always. Duh.
This amazing Halloween mix by The Macabre Webs, the spookiest DJs to ever have died:
MACABRE WEBS HALLOWEEN CELEBRATION MIX 2014
And this beautifully written piece, which is filled with expletives: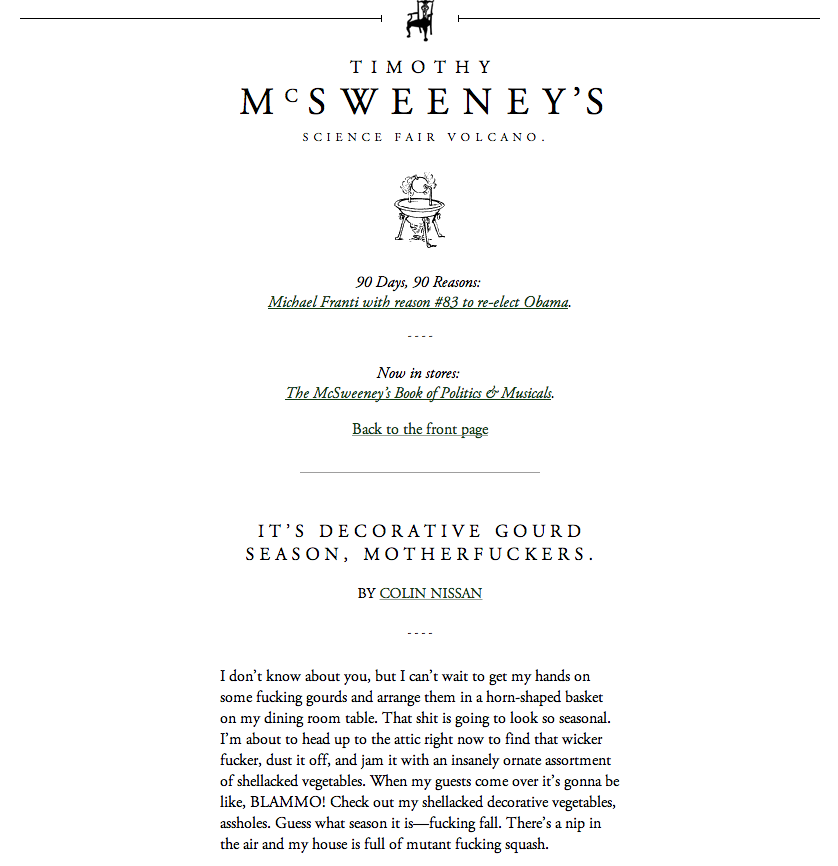 Did I miss anything? The answer is "no," but if you think I'm a liar, leave me a comment and a prove me wrong.
K, love you.