Yule Shoot Your Eye Out is an ale brewed with ginger, allspice, cinnamon, nutmeg, cardamom, orange peel, and cocoa nibs. This might sound like a flavor overload, but all the ingredients actually balance each other out well. The orange peel and spices give the beer a zesty zing, while the cocoa nibs and malts provide a smooth, mellow base. It's a lovely and robust brew.
Can I just say that I'm so impressed with myself right now for typing an entire paragraph dedicated to describing a beer, and it wasn't the least bit inappropriate? I'm proud, not because I thought I was incapable of such a feat, but because the whole time I was writing, one of the cats was just munchin' away at his own butthole right next to me, and all I wanted to do was go into gut wrenching detail about the horrendous slurping noises he was making with his mouth, but instead I stayed focused and gave you the beer drinking know-how you needed to appreciate this specialty ale, which in no way is like a cat's butthole.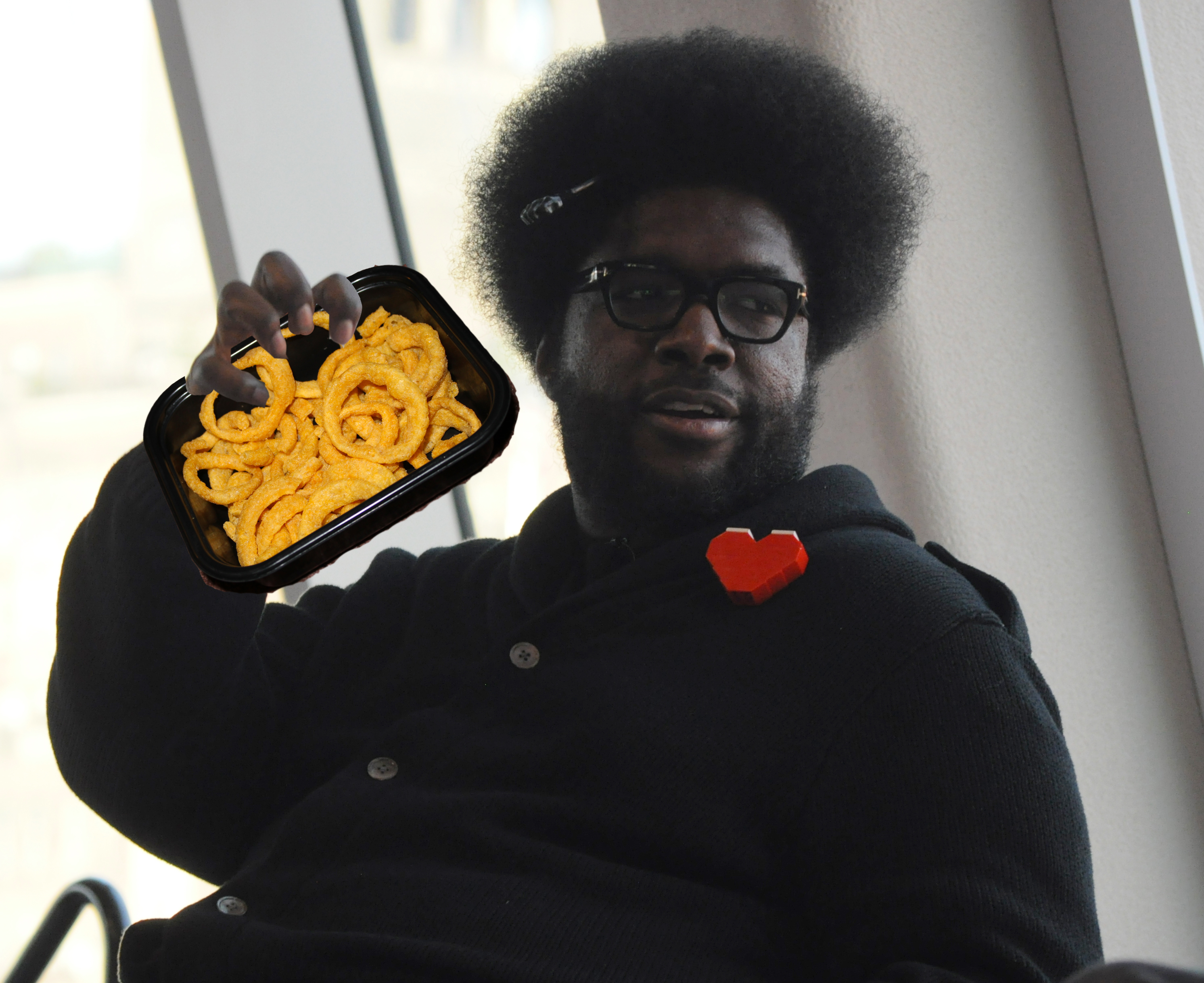 Time to pair Yule Shoot Your Eye Out with whatever Questlove has sent my way. If you're confused by that sentence, it's because you haven't read any of the previous posts that are part of this very special Christmas series. See, in accordance with this Christmas countdown, Questlove, the drummer from The Roots, is sending me all the gifts from the song, "The Twelve Days of Christmas," in the order they appear in the lyrics. He's not doing a very good job at it, though, because drumming for so long has caused him significant hearing loss, so he's misunderstood some of the words in the song. This has lead to an array of incorrect, albeit interesting, gifts. Still confused? Good, let's see what Questlove sent today.
On the fifth day of Christmas, my Questlove gave to me: "Fried onion rings."
Hey, wrong gift again, but I'm all for it! Thanks, Questlove. You know how much I love fried circles.
So there you have it. Get yourself Yule Shoot Your Eye Out, some onion rings, and try not to think about cat assholes as you partake of this perfect pairing.